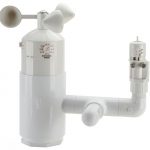 Mini weather station (MWS)
Description
MWS Mini weather station Hunter
It suspends the irrigation process during strong winds, frosts and heavy rainfall.
Effective irrigation means adapting the system to changing weather conditions. The Hunter mini weather station allows the user to adapt the system to atmospheric conditions by combining three different sensors into one unit. The Mini-Clik® rain sensor turns off irrigating during heavy rainfall and leaves it turned off for a time that depends on the amount of rainfall. The Freeze-Clik® freeze sensor prevents the system from starting by automatically stopping the flow when the outside temperature approaches to freezing temperature. The Wind-Clik® wind sensor turns the system off when the wind speed is too high, and then restores the system when the conditions become more favorable. The weather station is easy to install and operate, providing effective irrigation even during extremely difficult weather conditions.
A compact sensor that monitors wind, rain, low temperatures and turns off the irrigation system depending on weather conditions
Simple installation in automatic irrigation systems
Setting the wind speed at which the system will be switched off from 19 to 56km / h
Setting the height of rainfall at which the system will be switched off from 3mm to 25mm
Automatic system shutdown when the temperature drops below 3 ° C
Warranty period: 5 years.
Models
MWS: The weather station combines wind and rain sensors
MWS-FR: The weather station combines wind, rain and freeze sensors
Technical data
Electrical specifications: 24 V, maximum 5 A
Scapula diameter: 12 cm
Wind speed setting: launch speed: 19 to 56 km / h
Zeroing speed: from 13 to 39 km / h
Temperature setpoint at which the Freeze-Clik® sensor shuts off the system: 3 ° C
Mounting method: on a 55 mm PVC pipe or mounting in a 1 cm duct with reduction (included in the set)
More information: http://www.hunterindustries.com/pl/product/czujniki/mini-stacja-pogodowa-mws
Download files

[Download not found]