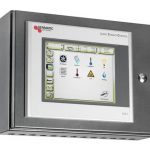 LCC4 climate control computer
Description
Intuitively operated Logic Climate Control (LCC) interface.
The most important features:
from 1 to 16 intervals
Decentralized I / O
Industrial type controller technology and modular hardware / software
6 time zones with separate temperature, humidity and CO2 settings
Advanced control using more than one sensor in one compartment and control of future installations / extensions
During the development of LCC4, we attached great importance to obtaining a simple user interface without affecting the setting options. We worked with plant nurseries and noticed that our product was very popular due to its trouble-free service. LCC4 has a touch screen, which in combination with the ability to create your own screen images makes the climate control computer is always a safe tool. The LCC4 climate control computer can control all climate functions in the range of 1 to 16 intervals. LCC4 Touch is based on the latest technologies and advanced operating system, thanks to which it can be easily updated and expanded capacity or added more functions. The LCC4 Touch interface communicates via Ethernet with the extension installed, which provides huge flexibility for future extensions. The flexible equipment composition in the LCC4 Touch device allows you to choose the sensor that is optimal for your production, and moreover more than one sensor can be used in each room. This flexibility ensures high precision and safety.
Energy-saving climate controlling
The LCC2 Touch climate control computer can divide 24 hours into 6 time zones with optional automatic correction depending on sunset and sunrise. In addition, you can control the screen depending on sunlight, heat loss and artificial light. In this way, the screens keep warm. In case of LCC4, we have developed a new energy balance model. The model calculates energy demand based on the K factor for greenhouses and screens, air change and energy added by artificial lighting. The model "recognizes" greenhouses and energy demand, which provides better and more stable control known as "charge control".
Joint and individual control
LCC4 can control 16 compartments, and each compartment can be divided into two subzones, depending on the function. All functions can have common setpoints. It is also possible to place local set points in sub-zones. These types of activities can be dependent or independent of common setpoints. This allows for simpler computer operation, while at the same time enabling the adaptation of conditions to different cultures. Thanks to the LCC4 Touch function, we continue the ventilation control with cascade venting control. This means that the leeward side and the windward side are opened at the same time. The windward side opens to a small crack, while the leeward side opens as wide as necessary. This control of cascade ventilation openings ensures effective ventilation in the greenhouse even at low ventilation openings.
Other models and software description in the attachments.
Download files

[Download not found] [Download not found] [Download not found] [Download not found] [Download not found]