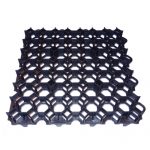 Lawn and parking grilles
Description
STELLA GREEN grilles , also commonly called eco grates or lawn grates, are designed to strengthen and stabilize the ground while maintaining free circulation of water and saving full vegetation of plants. The road grille is an excellent alternative to paving stones, asphalt or concrete (openwork concrete slabs), where it is required to maintain a biologically active surface. Garden grilles are not only an ideal solution for developing green areas and strengthening the escarpment or other surfaces. Effectively you will use them  when filled with decorative aggregate. It is then used much less than when hardening the surface with aggregate without a stabilizing grille. Effect? An even area unmixed with mud and without bothersome ruts.
STELLA GREEN parking grilles have been tested by the German TÜV SÜD. The results confirm that they meet the requirements of DIN EN 1072: 1985, which is important when designing and building fire roads.
Application:
The product can be used in grassy areas, which are also communication surfaces (e.g. parking lots, pedestrian ways,escarpments). This solution is especially recommended on access roads to the property, ramps for privileged vehicles, camping fields, animal runs or river banks. The products can also be used as a functional garden grille, as well as in areas of occasional utilized traffic surfaces such as: caravan pitches, roads and golf grounds.
It is used, among others on:
parkings
Lawns
driveways
Open warehouses
District access roads
Golf courses
Recreation areas
Service roads
Bicycle and walking paths
Roads for vihicles of disabled people
In accordance with DIN EN 1072: 1985, it can be used on fire routes
Paddocks and paddocks for horses (flexible grille type SG 2)
Benefits:
Easy and quick assembly
Many application possibilities
Little weight
Weatherproof
Strength due to honeycomb design
* Important: the shade of green color may vary in products delivered in subsequent deliveries. This is a typical feature for recycled production, which does not affect the quality and parameters of the products in any way.