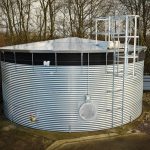 Evenproducts tanks
Description
Water tanks of Evenproducts company, thanks to the steel supporting structure, are characterized by strength and durability. This construction has been designed to withstand the weight of stored water. High-quality hot-galvanized steel is used for production, while the cladding and covers are subject to strict quality control.
The tanks are available in volumes from 4 m3 to over 2000 m3 and a diameter from 2.5 m to over 32 m.
Main product features:
complete water tank systems with all accessories,
easy installation in larger water distribution systems,
cost-effective solution, quick cost recovery,
small size, which translates into easy and cheap transport,
quick and simple assembly thanks to the instruction with drawings,
aesthetic appearance with optional coating of powder painting depending on the needs.
Water tanks are used, among others, for:
connecting tanks in series or in parallel, in agriculture and horticulture,
collecting, purifying and using rainwater,
storage of drinking water,
storage of industrial water and water used in exceptional situations,
storage of water used for irrigation of sports facilities.
Tank linings are available depending on the storaged water content. This water is secured by a special anti-algae cover.
Download files

[Download not found]